German exhibition company reviews | helistar laser held a global new product release conference at EuroBLECH, Germany
Keywords: Overseas Event Planning, Overseas Event Execution Company, Overseas Event Company, Overseas Public Relations Event Company
October 23 in Germany EuroBLECH shock! The revolutionary new equipment of haimuxing laser, HF·LU series laser cutting machine,
Here are some highlights from the event
Secretary general of China machine tool industry association
Haimu star laser to guide the global new product launch
Mr. Sun hongmin sun, global marketing director of sheet metal intelligent equipment of hai mu xing, introduced hai mu xing and announced that hai mu xing Italian company would be established soon!
Yves Dejonckheere, product manager of haimu Italy, tells about the latest HF·LU series models that haimu Italy r&d team has been working hard to build!
Can not stop the exhibition site
By the sea star European research and development team to build
HF·LU series laser cutting machine
HF·LU series laser cutting machine is not simple
It is a revolutionary new device with powerful features and state-of-the-art technology
The PARALLEL KINEMATICS technology
Ultra-high speed cutting (cutting head moving acceleration up to 5G) high-precision laser cutting
Using swing shaft form, very high - speed cutting complex graphics
X-axis auxiliary fixture
Multiple sets of auxiliary fixture can effectively improve the cutting stability and cutting speed of sheet metal
Full automatic loading and unloading equipment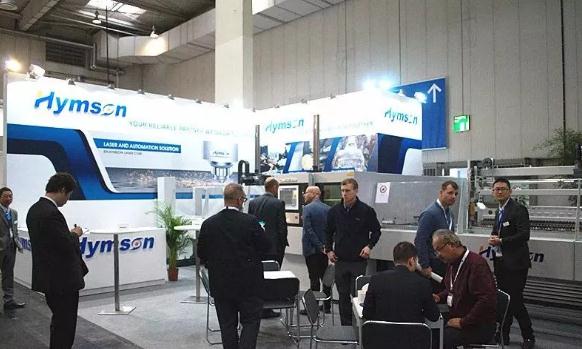 High speed and flexible loading and unloading system, fully automatic operation, no manual processing and adjustment
Equipment with material warehouse, small area
海外展位搭建 TOWIN Public Relations Media towinevent.com is a professional company engaged in public relations event planning. It is one of the top ten public relations planning organizations in Guangdong Province. It is an outstanding member of China Public Relations Association. It is committed to solving the needs of customers'public relations event in an all-round way. With our strong planning and execution capabilities, we provide all-round one-stop conference and exhibition services for customers'global demand for exhibitions and event: overseas conference planning, award tourism, exhibition services, event planning and execution, exhibition design and construction, foreign special installation and construction, etc. Service countries can cover: the United States, France, Germany, Southeast Asia, Hong Kong, Macao, Taiwan, Singapore, Dubai, Japan, Brazil, Mexico, South America, Europe and other regions. As a professional organization devoted to the planning of first-line brand event for 12 years, Tuoyuan Public Relations Media staff are full of passion, with full confidence to provide you with professional public relations consultancy services, to present you with more exciting public relations event!