Overseas product launch: missed the launch of aptamil in Germany? Look here!
Keywords: Overseas Event Planning, Overseas Event Execution Company, Overseas Event Company, Overseas Public Relations Event Company
Most of those who have spent time in Germany have had the experience of buying milk powder on behalf of relatives and friends at home or even customers, while those who have worked hard to carry bricks through thick and thin are more likely to encounter numerous eyebrowing and business restrictions.It's great to be recognized and valued for the first time here because of aitamei.
You didn't get the tickets? It doesn't matter. Let me show you.
Overseas new product press conference lofty scene, brand strength and charm
On October 29, 2019 German love his beauty product launches and act as purchasing agency overseas exchange activities in Frankfurt, high-grade marriott hotel conference room, 180 degrees full screen projection presented super shock show effect, Shanghai son-in-law's beloved ah fu also use, and a high standard of tea food, ostentation and extravagance and atmosphere does not lose big show.
This is the long-awaited release of the new aptamil products in Germany and the carnival of the baby buyers in Germany.More than a month ago, the official milupa of aptamil issued an invitation letter inviting German daigous to witness the launch of the brand new upgraded platinum milk powder formula.One ticket for the activity is hard to get, nearly one thousand people have applied for it, and more than two hundred lucky babies were selected for the venue.Did the invitees dress up and find you or your daigou in the photo?
All the senior executives of Germany aitamei appeared together. Mr. Ulrich Zihla, general manager of daurui region, delivered a speech and took a group photo with all of them.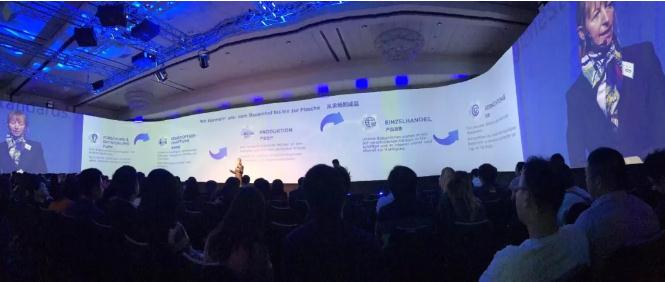 Top early life nutrition experts and directors of various departments took turns to demonstrate the corporate culture of aitamei, which focuses on the healthy growth of children and quality and safety.
Much to the encouragement of the attendees, general manager Mr. Zihla said in person that the overseas launch thanked mothers for their trust in German love and beauty over the years, which is a must for many Chinese mothers in China. Under the circumstances of electricity channel now is very rich, there are many Chinese mothers choose trust buy on sb's behalf, so love his beauty to act as purchasing agency to provide a quality guarantee shopping channels, but also to act
In order to better guide daigou, aitabei opened a WeChat account (see the end of the article for the qr code) for daigou, which not only has detailed product introduction, common problems of consumers, but also more professional knowledge of breast milk and parenting, hoping to let mothers know more about the product through daigou. Germany's mothers are interested can also pay close attention to, although is to buy on sb's behalf, but also can see a lot of brand information and interesting content oh, overseas launch follow-on love his beauty will hold more act as purchasing agency communication, factory number, WeChat public science popularization, interactive activities such as visible is really
It turns out that in addition to lactose and fat, there are other animal milk milk milk not in the oligosaccharide HMO, this component is very rare, known as the third important nutrients in breast milk.Its benefits for babies have been proven by numerous studies: helping babies build healthy intestinal flora, protecting them from infection and inflammation, and strengthening their immune system.
Love innovation based on the continuous research of breast milk of his beauty, overseas launch love his beauty professional milk nutrition institute is committed to research more than 40 years, has more than 500 experts specializing in breast milk and infant nutrition in headquarters, on the basis of Europe's leading scientific research technology, further decryption natural nutrition combination, help baby to inspire excellence since the guard force.
After understanding the ingredients of breast milk, the event will be followed by a new upgrade of aitamei formula. Beloved by his mother, ah fu also experienced how to make milk powder on the spot. It was so much fun to watch ah fu on the scene counting down 10 seconds with the staff shaking the bottle up and down! Although this is only a small change in the operation, there are a lot of mothers in the brewing of the incorrect operation, resulting in the insoluble milk powder, so next time you can consult the purchase!
According to the introduction on the spot, the newly upgraded formula milk powder is the first one in the market, and also the only one that combines the combination of special nutrition ingredients and unique innovative process of infant milk powder.
Overseas launch let us open its mysterious veil and see how much the new formula: love his beauty Profutura (platinum edition) and love his beauty Pronutra (classic) of baby milk powder added HMO, collaborative GOS FOS/prebiotics combination, since the baby to help build strong natural force, love his beautiful milk powder added long-chain polyunsaturated fatty acid DHA and ARA, help meet baby's natural nutrition needed. No wonder so many consumers like German - tamei milk powder.
The grand ceremony of overseas new product launch has come to an end, but there will be more surprises and experiences in the future.
海外展位搭建 TOWIN Public Relations Media towinevent.com is a professional company engaged in public relations event planning. It is one of the top ten public relations planning organizations in Guangdong Province. It is an outstanding member of China Public Relations Association. It is committed to solving the needs of customers'public relations event in an all-round way. With our strong planning and execution capabilities, we provide all-round one-stop conference and exhibition services for customers'global demand for exhibitions and event: overseas conference planning, award tourism, exhibition services, event planning and execution, exhibition design and construction, foreign special installation and construction, etc. Service countries can cover: the United States, France, Germany, Southeast Asia, Hong Kong, Macao, Taiwan, Singapore, Dubai, Japan, Brazil, Mexico, South America, Europe and other regions. As a professional organization devoted to the planning of first-line brand event for 12 years, Tuoyuan Public Relations Media staff are full of passion, with full confidence to provide you with professional public relations consultancy services, to present you with more exciting public relations event!